In the United States, most 7-Elevens are dirty and sticky with a horrid and offensive selection of food that might've honestly been cooked up by a rat (and not the fancy Ratatouille kind.) Imagine my surprise when I heard that the 7-Elevens in Japan are one of the best places for tourists to eat. And then double imagine my surprise when I saw the Japanese people eating there too.
Throughout my two-week stay in Japan in November, I went to at least one of the konbini's (Japanese convenience stores such as Family Mart, Lawson's, or 7-Eleven) every single day. Most of the time, it was a 7-Eleven, because I quickly developed a taste for their specific konbini food.
Whether you're going to Japan in the future, have late-night munchies, or are simply a curious soul such as myself, I thought I'd lay out what to buy at Seven-Eleven Japan.
Nikuman Steam Buns
My top three favorite 7-Eleven Japan snacks are, without a doubt, the nikuman steam buns, tamago eggs sandwiches, and the karaage fried chicken. The nikuman steam buns were one of the things that my good friend Christina, who was born in Japan and who I just visited in San Francisco, said that I absolutely had to try.
There were a few different flavors to choose from, but my two favorites were the Pizza Man (melted mozzarella and tomato sauce) and the Pork Bun (fresh and juicy pork with perfectly fresh, diced onions.) I was amazed by how good these buns tasted. In the States, I would expect them to be crusty and dry. But I think that the fact they were added to the moistened, air-tight display case throughout the day is what kept them tasting so fresh.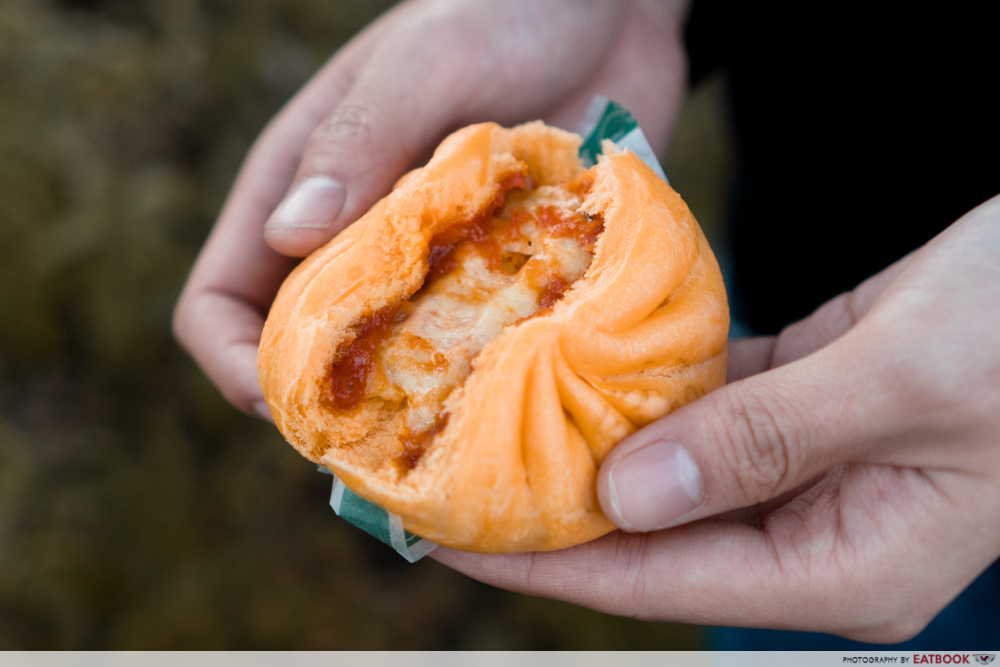 Calbee French Fries
Although the best place to get fresh Calbee fries is their flagship in Harajuku, you can always find a huge assortment of Calbee flavors in any Japanese convenience store. My favorite flavors (of which I only tried like four lol) was the original. I'm very easy to please 🙂
Tamago Egg Sandwich
Before going to any country, I do a ton of research on what to eat, what to drink, where to go, and what to do. One thing I did before going to Japan was I watched a ton of videos my the ever-so-charming Strictly Dumpling.
His video on comparing foods at 7-Eleven vs. Lawson's gave me a ton of ideas on things to try. But one thing he couldn't stop raving about was the Tamago Egg Sandwich. And…wow. I am so damn glad that I did because this sandwich definitely lived up to the hype. You absolutely have to try the egg sandwich at Japan's 7-Eleven.
The Bento Boxes
If you have a long ride on the shinkansen (bullet train) ahead of you, I highly recommend stopping at the train station 7-Eleven and picking up a bento box for the ride. All of these gorgeously prepared meals are made with fresh and in-season foods to create the perfectly healthy, balanced meal.
Japan 7-11 Onigiri
One of the healthier options available is the onigiri, aka a rice ball wrapped in nori. However, at any given time, you can find between 10 to 20 different kinds of onigiri, with fun fillings like cream cheese, salmon, or pickled plum.
Instant Ippudo Ramen
Ippudo is one of the biggest ramen chains in Japan and you can always find a hearty selection of instant ippudo ramen at the 7-Elevens. You will notice that they like to get creative with the flavors and I recommend trying whatever is currently being advertised. Fun tip for 7-Eleven ramen: the bigger the box or bowl of ramen, the better it will be.
Maruchan Instant Cup Ramen Tsuta Soba
This is another recommendation that I got from Strictly Dumpling. Believe it or not, 7-Eleven in Japan sells fricken MICHELIN-STAR instant ramen! How crazy is that?? And it definitely lives up to the hype!
100¥ Miso Soup
Don't let this packaging fool you. Inside this 100¥ box of miso soup is dried seaweed, perfectly soft tofu, and green onions that, once you add the hot water, taste like it was made at a 5-star restaurant. Leave it to the Japan 7-Eleven!
Fried Chicken Strips (aka Karaage)
As an American, I have obviously had dozens, if not hundreds, of different kinds of chicken strips in my life. I am not exaggerating at all when I say that the plain chicken strips that I had at Japan's 7-Eleven were the single best that I have EVER had. They were juicy and delicious and I think about them all the time. I honestly would pay $20 just to have one right now. The best part is that each one was only about $2.50. Wow.
I'm not kidding when I say that at times, I even saw one of the workers at 7-Eleven straight up frying chicken at a full-service grill in the back. Check out their whole fried food set up.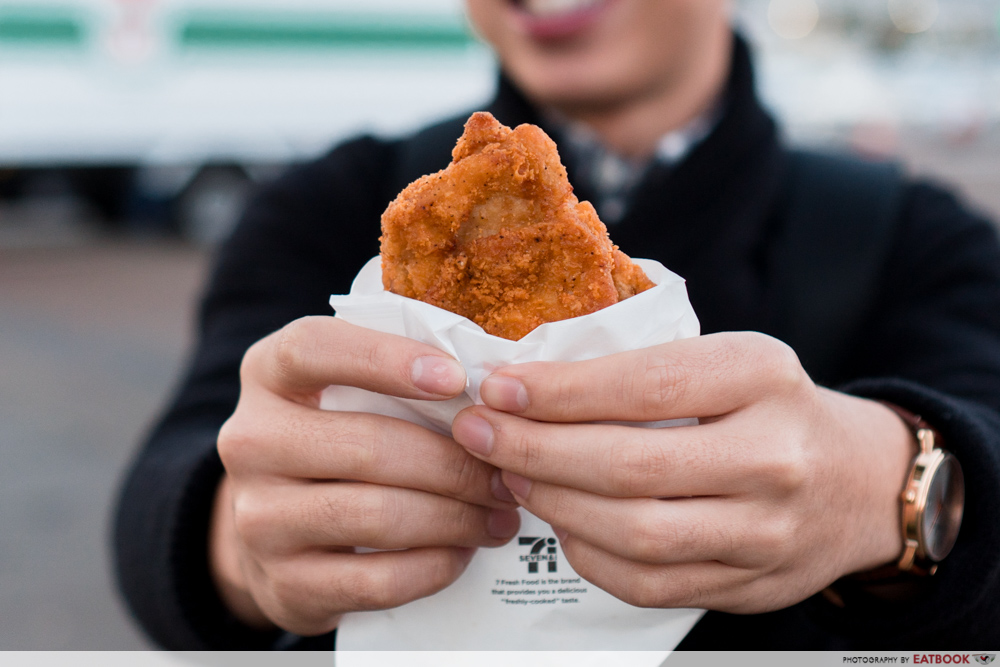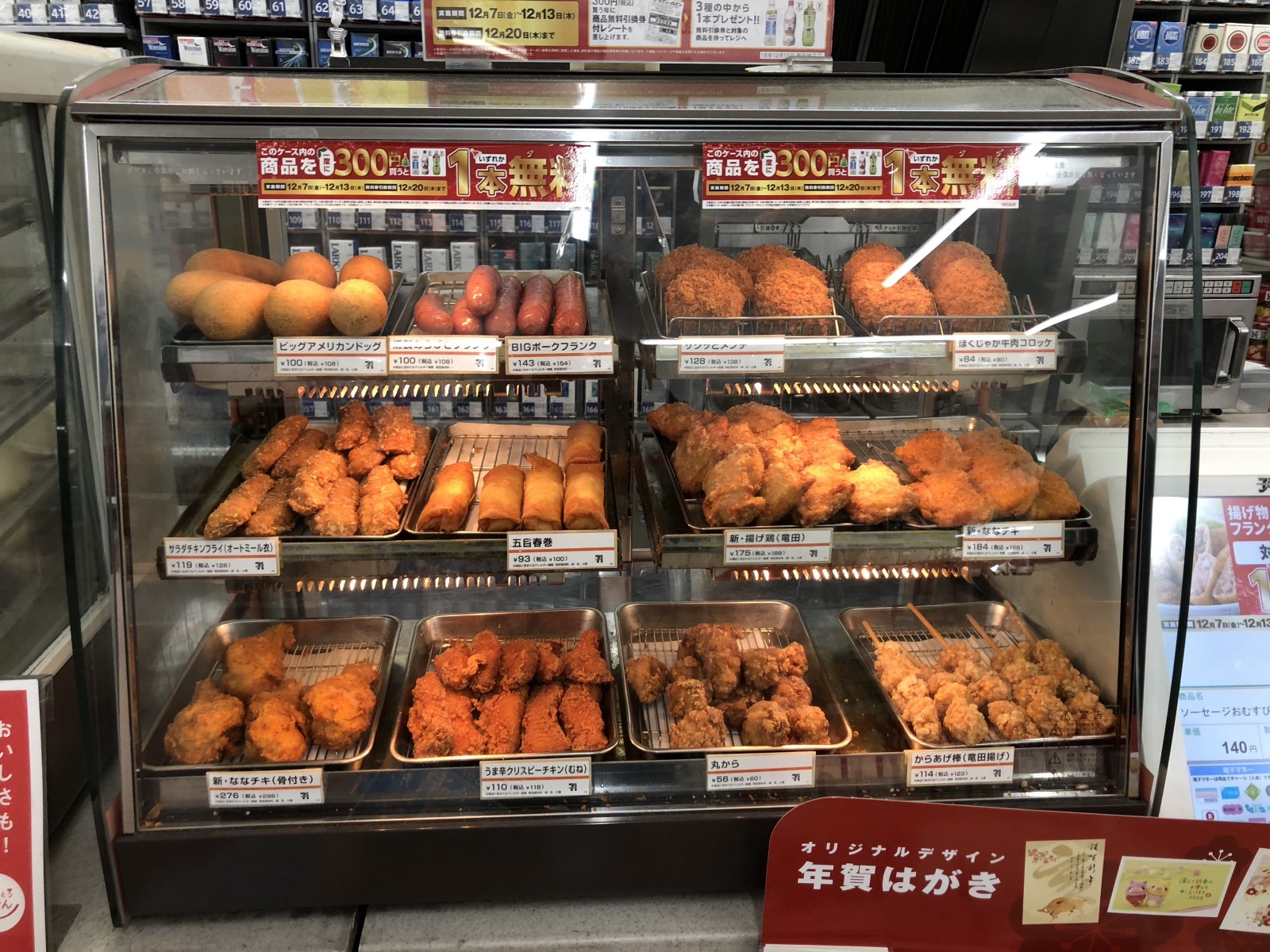 Mochifuwa Pancake
I got the Mochifuwa Pancake right before my flight back to LAX and after two bites, I wished I had bought ten more. I was so bummed! Basically what this is is two delicious pancakes smushed together, with a hefty helping of butter and syrup on the inside that oozes out once you get to it. It's like a classic pancake meal to-go and I loved everything about it! I could totally see this being my on-the-go breakfast.
Flavored Milks (Strawberry and Banana)
I'm a sucker for flavored milk. Usually, I stick to chocolate, and although I definitely did give the Japanese chocolate milk a go, I found that I much prefer the strawberry and the banana milk. Even though you can typically find these at your local konbini (7-Eleven or otherwise) you can also find them at Daiso or Don Quixote.
Bonus Recommendation: Lawson's Chicken
Lawson's, another popular Japanese convenience store, has pretty much the same type of foods they have at 7-Eleven: breads, packaged pastries, canned coffee, nikuman, and chicken. BUT!! I will say that their chicken nuggets (both the spicy kind and the regular kind) are phenomenal.
Even though you're not supposed to eat on the street in Japan, I could never stop myself from sneaking a few in on my way back to my Airbnb. There's usually about ten or so in each box and they are seriously delicious! They also don't make you feel gross, like Chicken McNuggets do.
I was super impressed with the overall quality of the Japanese 7-Eleven and, to this day, I am still craving some of my favorites. When I think back on my favorite foods from that trip, I think of the noodles at Ichiran Ramen, the fluffy pancakes, and all those delicious 7-Eleven snicky-snacks.
What I would give to have a Pizza Man steam bun right now…