I've been to Paris many times throughout the course of my life. I even worked and studied there in 2015. But no matter how many times I go, I will always make time for a handful of my favorite coffeeshops. France, in general, has been pretty slow to the Third Wave Coffee game, with most people leaning more towards traditional French coffee. But in the past eight or so years, more and more specialty coffee shops have been popping up.
Every time I go, I find more and more places to add to my personal "best coffee shops in Paris" list, which I do for most cities. So whether you seek out specialty coffee shops in Paris for the taste, ambiance, or just a cool place to hang out, I hope you will reference this list for inspiration!
AntiCafé – Louvre
I'm sure you all know from my previous article how obsessed I am with the AntiCafe by the Louvre. Here, you will find a unique space, with friendly baristas, where you can write cute journal entries and make eyes at that boy sitting across from you. The cool thing about AntiCafe Louvre is that you pay by the hour and get free coffee, drinks, food, and wifi for the whole time!
Address: 10 Rue de Richelieu
Metro Stop: Pyramides (line 14)
Wifi Password: bienvenue
AntiCafe in Beaubourg
The biggest AntiCafe of the two in Paris is a mecca for the hardworking, trendy people in Paris. Known as "The Innovation Factory" it is drastically larger than it's counterpart; two floors of pure class. There are long, dining tables where you could sit with a study group or elbow-to-elbow with a middle-aged man with dreads. This place is almost always packed to the brim so it's better to get there early in the day. They open at 9 and close at 10 during the week and 10 to 9 on the weekends. You can have your birthday party here!
Address: 79 Rue Quincampoix
Metro Stop: Châtelet (line 1)
No wifi password 🙂
Café Loustic
Loustic offers a warm, cozy vibe from the moment you walk through the doors. I was overwhelmed with the many coffee choices I was presented and was recommended a strong African dark roast. There was an impressive amount of flavor in a simple cup of coffee, but I still added a little bit of sugar. You can tell there have been many souls in and out to taste the latest blends. Note: there are no laptops allowed on the weekends.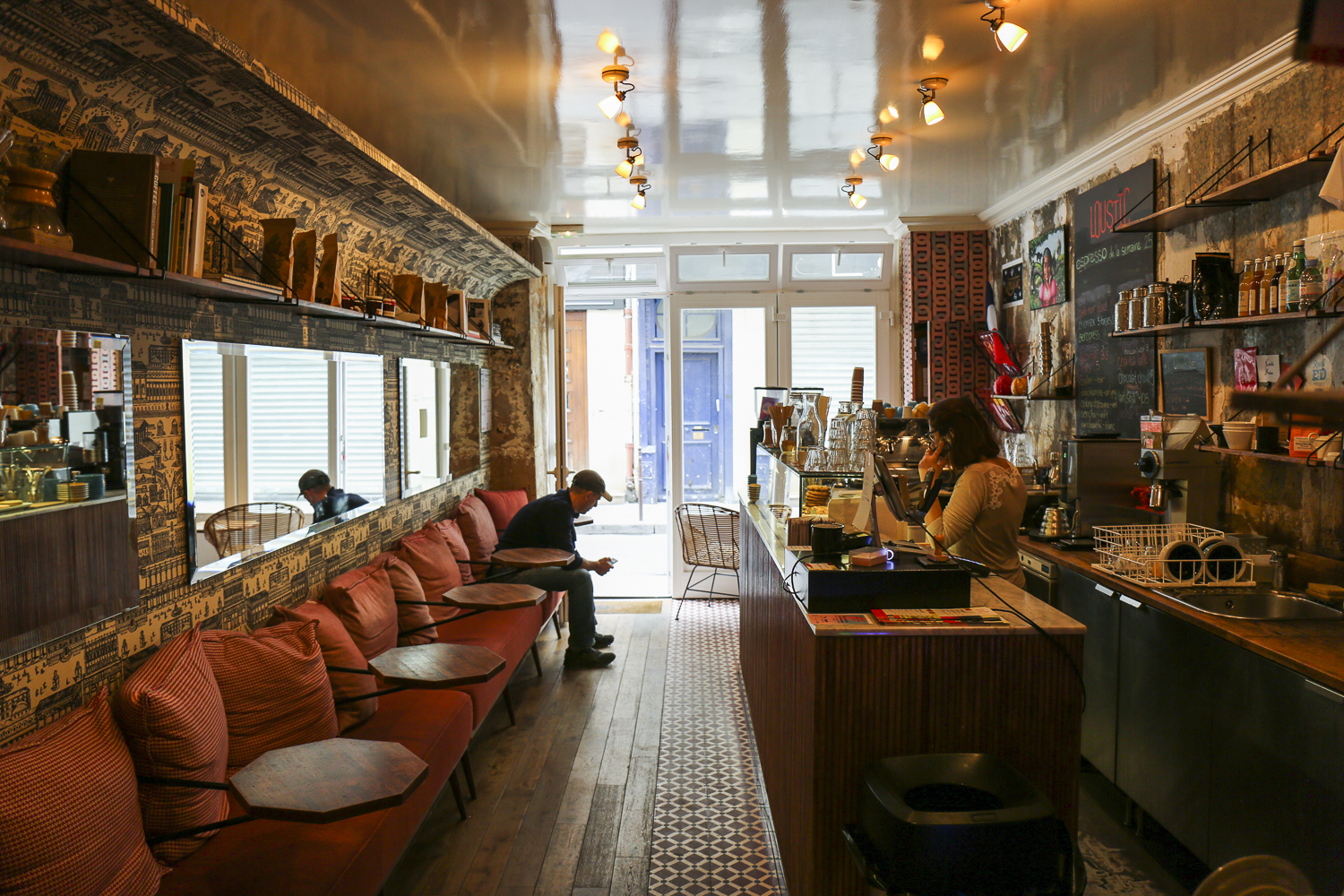 PS- The owner, Channa, is super cool.
Address: 40 Rue Chapon
Metro Stop: Arts et Métiers (line 3)
Wifi Password: bienvenue
Café Lomi
I visited Café Lomi for the first time on a rainy Sunday afternoon. Dark wood and open spaces gave the place a warm, comforting air. The prices were more than reasonable and, lucky for me, each table comes with a big bottle of water. However, it is a little bit out of the way in the 18th arrondissement.
Address: 3 ter Rue Marcadet
Metro Stop: Marcadet – Poissonnieres (line 12)
Wifi Password: costarica
Grand Café Tortoni
Who doesn't love a dramatically elegant café in the middle of the 3rd arrondissement? Grand Café Tortoni is large, cozy, beautifully decorated, and has an overall wonderful vibe to it. It's not exactly specialty coffee, but it's classic and delicious, so it's more than earned it's place on my own personal list of the best coffee shops in Paris!
Address: 45 Rue de Saintonge
Metro Stop: Filles du Calvaire
Les Deux Magots
Just like le Grand Café Tortoni, Les Deux Magots isn't what you would call 'specialty." BUT! It is an iconic and historic coffee shop that is a staple of Paris.
Why? Well, since its founding in 1812 (originally at Rue de Buci) it has welcomed incredibly talented and well-known patrons of the arts. Their most famous include Picasso, Fernand Léger, Prévert, Hemingway, and fricken André Breton! How cool!! Because of this, it's probably one of my favorite places on the list. Keep in mind, since it is so famous, it is nearly always packed.
Fun bonus tip: It's a pleasant 16-minute block from another historic location: the Shakespeare and Company bookshop. I highly recommend stopping there first and then bringing your new book over to Les Deux Magot 🙂
Address: 6 Place Saint-Germain des Prés
Metro Stop: Saint-Germain-des-Prés
Coutume Institutti
A Swedish cafe with an abstract design, Coutume Institutti has a large room for you to study, meet with friends, or dine. Four long white tables host a variety of interesting people, looking for a calm place with great background music. I was introduced to this place by a friend of mine, who spends her time there drawing. Though the prices are a little steep, the food and drinks are delicious and I look forward to going there again.
Address: 60 Rue des Écoles
Metro Stop: Hôtel de Ville (line 1)
Wifi Password: coutumecafe
The Broken Arm
Although it's primarily a clothing store, The Broken Arm in Paris is still a wonderful place to grab a cup of coffee. Sometimes, it's very busy inside. I tend to grab my coffee to go and then go sit at the gorgeous park across the street: Square du Temple, Elie Wiesel. It's especially magical on a sunny day, right after it rained.
Address: 12 Rue Perrée
Metro Stop: Temple
Ladurée on Le Champs-Elysées
For the ultimate Parisian experience, you absolutely must take the time to attend Ladurée on the famous Champs-Elysées. Sure, it's a bit on the pricier side and, sure, you might have to wait an hour, but boy is it worth it. The coffee itself is very good, although they only offer the basics. But they also have phenomenal hot chocolate, french toast, rose tea, and, obviously, macaroons. The aesthetic of Ladurée is phenomenal and I highly, highly recommend it.
Address: 75 Av. des Champs-Élysées
Metro Stop: George V
So there you have it. If you're ever in Paris, you know where to go to draw, read, write, people watch, catch up with friends, or just to appreciate a good cup of coffee. See you there 🙂
Check out more of my mildly-pretentious, yet hopefully helpful posts about coffee!!