Berlin has a lot to offer. An iconic techno scene, history everywhere you look, street art, Museum Island, and a diverse selection of restaurants. To all the foodies out there, Berlin is a great place to try food from all over the world.
I wanted to focus this piece on my favorite non-German restaurants in the capital. Here we go.
*For German food, any small local restaurant is always a good idea. But you should still check out Curry 36!
Kreuzberg's Turkish Market
Authentic, affordable, and delicious, this is the place to get Turkish food. Besides a handsome selection of fruits and vegetables and cheese, you can also find the classics from the Republic of Turkey. Here, you will find Gözleme (savory and sweet stuffed pastries) Turkish coffee, homemade Yaprak Sarma, and every version of Baklava imaginable.
You can also find other goods at the Turkish Market, most famously the leather bags. Don't forget to negotiate the price!
Address: Maybachufer, 10999 Berlin
Hours: Tuesday and Friday from, 11AM to 6:30 PM
Oh my goodness. This is one of my all-time favorite restaurants in the damn world. Known for their homemade Polish comfort food, they make especially phenomenal pirogies. I miss them all the time.
You have to try the potato and cheese pierogies. Made fresh, they top it off with sour cream, dried onions, and green onions. You will never forget them.
Address: Brunnenstr. 5, 10119 Berlin-Mitte
Hours: Monday through Sunday, 12AM to 10 PM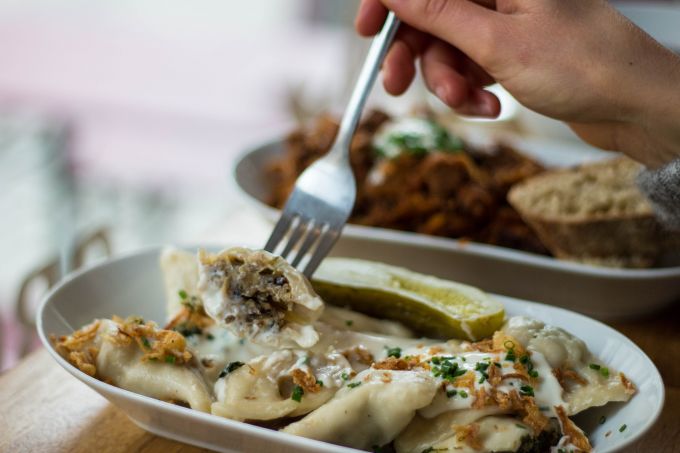 A hot spot for expat and locals alike, the House of Small Wonder is both aesthetically pleasant and boasts a damn good menu. The lobby is downstairs and the seating in an upstairs, woody area. It gives the impression of being in some sort of hipster tree house.
Address: Johannistraßer 20, Berlin
Hours: Open Daily, 9AM to 11PM. Brunch 9- 14:30// Dinner 5:30
Zeit Für Brot
Two words: cinnamon rolls.
Zeit Für Brot (meaning "time for bread" in English) makes fresh pastries and breads daily. Dense sourdough loafs, bread rolls, sweat buns, and more. You can smell the shop from down the street. That's how good it is.
Above all, they're known for their cinnamon rolls, of which they have many different kinds. The base is the same, doughy swirls of cinnamon and sugar glaze. My all time favorites are the white chocolate and rhubarb and the peanut butter and jam rolls.
Address: Alte Schönhauser Str. 4, 10119 Berlin
Hours: Varies by day
Hummus and Friends
Berlin has a lot of Israeli restaurants to check out, but Hummus and Friends was right by my apartment and I couldn't stay away. It's spacious but always packed full of people, and you can always find the classics, like mint tea and hummus with onions.
Address: Oranienburger Str. 27, 10117 Berlin
Hours: Everyday 11AM to 11PM
The Best Coffee Shops In Berlin
I've already talked a lot about my favorite coffee shops in Berlin, primarily Father Carpenter Coffee Brewer in Mitte. Check out the post here!
Berlin is one of my favorite cities in the world. I always describe it (lovingly) as trashy, yet classy. The dichotomies of Soviet and Western Berlin remain prominent, run down neighborhoods with elaborate street art run parallel to newer high-end districts, and artists and business professionals alike live side by side. Whatever you're looking for, be it art from any era, a good cup of coffee, a creepy museum, a Soviet-themed history tour, or authentic Polish pirogies, Berlin has your back.