This weekend, I'm driving up to L.A. to see Theo Von perform at The Comedy Store and hang with my pseudo-cousin/lifelong friend, Dylan. Los Angeles has always been close to my heart and there's never a shortage of things to explore. Whether you're planning a trip to LA or are simply curious, here's my list of some of the best things to do in LA (especially if you're into some fun and freaky things!)
The Victoria Beach Pirate Tower
On my way up to LA, I sometimes make a stop at Victoria Beach in Laguna. What brought me there the first time was something called the Pirate Tower, which was made in the 20s by some rich senator. It's a 60-foot tall stone tower that looks like it belongs in Transylvania or a fairytale, not necessarily the California coast. If you're looking to feel like a swashbuckling pirate with a belly full of rum, this is where you need to go.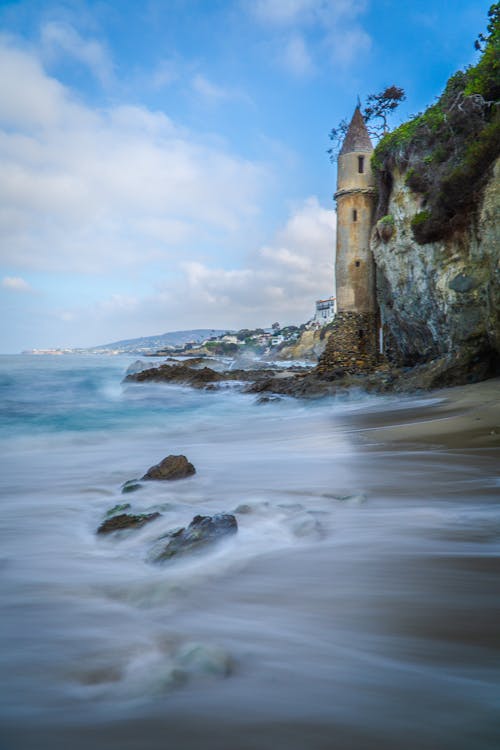 Address: 2713 Victoria Dr, Laguna Beach, CA 92651
Cognoscenti Coffee
Every time I'm in LA, I make sure I make my way to one of my favorite coffee shops there, Cognoscenti Coffee on Olive Street. It checks all of my requirements: tons of natural light, community tables, outdoor seating, chill vibe, good food, and cold brew. In my opinion, it's one of the best coffee shops in Los Angeles (along with Bar Nine and Dinosaur Coffee.)
Address: 868 S Olive St, Los Angeles, CA 90014
The Last Bookstore
Being the book nerd that I am, my trip is never complete without a visit to The Last Bookstore. I've been a few times already, but it never fails to appease me. They display a lot of local art, magazines, and literature, and there's no shortage of unusual and interesting books. You can also bring other books to sell, trade, or donate while you're there. So if you're like me and have a problem hoarding books (and maybe have an uncomfortable amount of YA apocalyptic novels) bring them here for some new material.
But the thing I love the most is the actual layout of the store. The Last Bookstore is a spacious, chaotic, but organized labyrinth that looks like it was designed by Lewis Carroll. It's also housed in an old abandoned bank, which is, like, super duper cool.
Whether you're a book nerd or not, this iconic Bibliophile mecca will keep you entertained.
Address: 453 S Spring St, Los Angeles, CA 90013Address:
The Bradbury Building
Only a six-minute walk from The Last Bookstore is the Bradbury Building. The 126-year old structure doesn't look like much from the outside, but on the inside, you'll find five stories of Victorian-slash-Sci-fi architecture. The wrought-iron elevators and marble staircases come alive in the sunlight and the magic will take your breath away.
What I find so interesting about this location is not necessary the design, but the history. First off, it's said to have been inspired by "Looking Backward," a sci-fi novel by Edward Bellamy. The real legacy of the building is that the man that was proposed to design it, George Wyman, had to be convinced by his dead brother via planchette board (aka the original Ouija Board.)
Fun Fact: The Bradbury Building was featured in Blade Runner, 500 Days of Summer, and Marlowe.
Address: 304 S Broadway, Los Angeles, CA 90013
Chinatown, LA
Okay, I'm not gonna lie. The main reason I go to Chinatown is to get some sweet Instagram photos…and it's worth it. They are awesome.
Either way, it's a fun place to explore. Of course, there's the classic antique stores, Chinese grocery stores, gift shops, and twin dragon gates that you'll find in most Chinatowns. There's also the Velveteria. No, it's not a gelato shop that specializes in the Red Velvet flavor. It's a museum of velvet paintings. Pretty neat!
Some fun shops to check out in Chinatown LA are Wing Wa Hing Gifts and Arts, Realm, the Phoenix Imports Antique Shop, Ooga Booga, and K G Louie Co. There basically all in the Chinatown Central Plaza, which is the address below.
Address: 943 N Broadway, Los Angeles, CA 90012
The Spadena House
The Spadena House is what you'd imagine a real witch's cottage would actually look like, complete with a wooden 'no trespassing' sign and a saggy, wooden roof. The Witch's House also has a lillypad pond, gnarled trees, a beautiful garden, and an actual moat guarding the house. If you're over in Beverly Hills, this classic story-book house is a must-see.
Address: 516 Walden Dr, Beverly Hills, CA 90210
The Broad Museum
The Broad Museum in Little Tokyo is one of my all-time favorite museums. Sometimes, they sell-out weeks advance, so if you plan to go, make sure you buy your tickets ahead of time.
The Broad is one of the most popular museums in LA, showcasing some of the most iconic modern artists of all time. I'm a huge fan of both Jean-Michel Basquiat and Yayoi Kusama, who both have work presented there. Kusama's Infinity Mirror Room, in particular, was stunning.
The Broad also has a pretty sweet gift shop which, let's be honest, is one of the best parts of a museum.
Address: 221 S Grand Ave, Los Angeles, CA 90012
The Museum of Death
If you're a fan of the macabre, The Museum of Death is definitely for you. This place has the single largest collection of serial killer artwork. What's serial killer artwork, you say? I guess you'll have to just find out for yourself…
Address: 6031 Hollywood Blvd, Hollywood, CA 90028
Amoeba Music
A staple of the Los Angeles music scene, Amoeba Music has a personality of its own and a very dedicated cult following. This two-story warehouse is jam-packed with records, CDs, videos, posters, and a constant flow of live music. And if you're a fan of crate-digging, this place is a double whammy!
Address: 6400 Sunset Blvd, Los Angeles, CA 90028
The Echo Park Time Travel Mart
This is the place to go if you're looking to buy mammoth meat, dinosaur eggs, time travel sickness pills, anti-cloning fluid, and anything else that you might need to travel through the fourth dimension. As an aspiring time traveler myself, I spent $60 there on my first visit. The Echo Park Time Travel Mart donates all the proceeds to their non-profit, 826LA, so I never feel too bad.
Address: 1714 Sunset Blvd, Los Angeles, CA 90026
Los Angeles is one of those cities that never fails to impress you. Sure, it's large and you have to sit in traffic for a million hours to get anywhere, but it's worth it. I always download some episodes of my favorite podcasts (Armchair Expert, My Favorite Murder, and Stuff You Missed In History Class) so that I'm still entertained. There's so much more to see in Los Angeles than just these things. If you have any suggestions, leave them in the comments below!
Love,
Elena x