Hello hello!
I've spoken a bit about how it's been rather difficult working a 9-5. I love my job, of course, but I kind of screwed myself over by spending four straight years traveling. I have this irresistible instinct to leave, but I can't just up and go. Thankfully, I do have a trip to Japan planned for November and the planning for it keeps me occupied. I'll be going starting in Tokyo, doing a day trip to Fukushima (yikes) then heading to Kyoto, Osaka, and back to Tokyo.
It's hard because it's not for another six months, but I have a couple weekend trips planned to keep me at bay until then. I'm going to Rosarito, Mexico, for Memorial Day weekend; Catalina Island, off the coast of SoCal; and to San Francisco to visit a friend in October.
Other than those small trips, there is something else I do that helps me keep my mind out of the notorious 9-5 mind-numbing mentality. I write about some of my favorite travel experiences. Today, I'm going to tell you about the time I went camping in the Austrian Alps, to a small lake called Faaker See.
In July of 2017, I studied German at the University of Vienna. During that time, I roomed with some friends, four Austrian boys, in a penthouse apartment just outside the city. They were phenomenal hosts. They took me to parties, hosted barbecues, introduced me to their friends, and took me on weekend trips to Budapest, their hometowns, and the Austrian Alps.
At 8 am on a Saturday morning in mid-July, we packed into Lukas's father's small four-door and drove about four hours to Faaker See. First, we stopped at a store in the town just outside the lake, Carinthia. We bought all the necessities for the weekend camping trip and then set out on the final stretch.
When we got to Faaker See, we spent the first 30 minutes or so paying for our camping lot and setting up the tent. Then we walked 2 minutes down to see the lake.
I'm not exaggerating when I say that my heart stopped when I first saw the lake. It was one of the single most stunning sights that I'd ever beheld. The lake was a perfect, low basin of crystal blue water. The hills surrounding the lake were dotted with quintessential Austrian cottages and a jolly red train chugged along some unseen tracks. Some edges of the lake were dotted with lily pads and tall sea grass. Others with small row boats and forgotten toys.
Wooden docks jutted into the sea and kids with swimming noodles were jumping off it, screaming with joy. People on canoes and small boats sailed by.
I have a huge fear of the ocean which almost entirely stems from the 75 episodes of Shark Week that I've watched. But Faaker See was salt water, of course, and I was able to swim without any fear. I floated on my back, staring up at the cloudless blue sky, and thought about how lucky I was. I thought about how genuinely happy I was in that moment.
In the middle of the lake was a small island with a house on it, and my friends and I challenged ourselves to swim there. It was a bit exhausting but enjoyable none the less. Just before the shore of the lake, there was a little stretch of sand. People were playing soccer, playing catch, or tanning on wooden benches. It was so wholesome.
That night, there was a lightning storm, and my friends and I huddled in our tent, drinking whiskey and joking around. Every so often, one of the boys would go outside to smoke a cigarette and we all eventually fell asleep to the loud booming and snaps of the storm.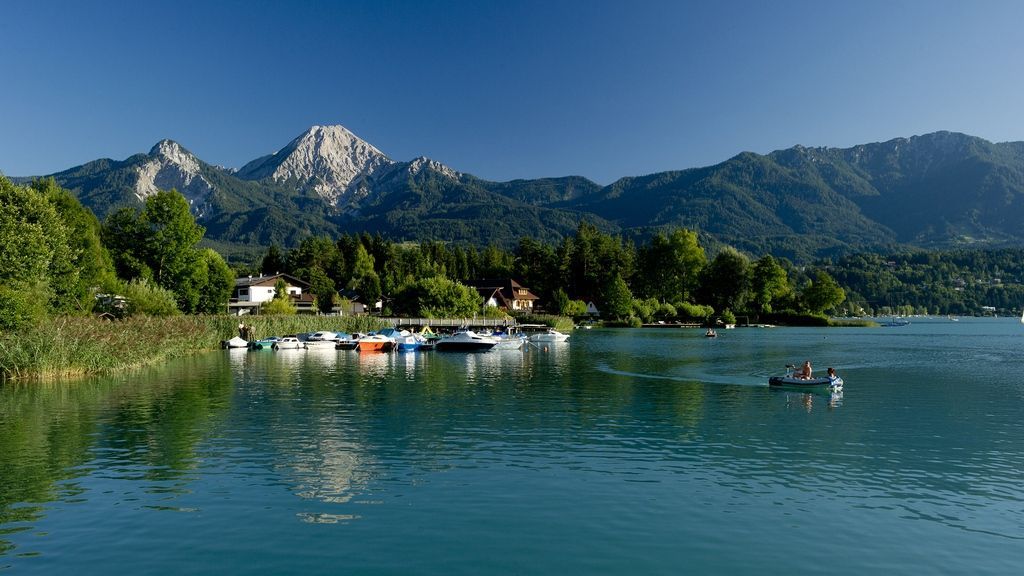 We spent two days there and headed back Sunday evening. I remember making a promise to myself that I would come back some day. I didn't take any photos of my experience, which is very uncharacteristic of me. But I was able to find a few photos on the internet, which I hope can show you a bit of what I experienced.
If it weren't for my friends, I would've never been to Faaker See. For that, I am truly grateful. To be honest, that might be my single favorite aspect of traveling; exploring random places with locals and new friends that I had never heard of. I love that. I miss that.