My arms are covered with simple little tattoos. I have twelve now, but I'm adding two more on Saturday. I just can't get enough. For some reason, which I sort of understand, tattoos make me way more confident. I always feel like my confidence gets a little better when I add new tattoos. It's literally having art on your body and it makes me feel good about myself. I like how it looks.
I have a random assortment of tattoos: my dog's face, a shark, quotes, stick and pokes, a Harry Potter tribute, and a biker tat, among others. Considering how much of an art fanatic I am, it's surprising that I don't have any tattoos dedicated to an artist or two.
Some of you may know that I'm particularly obsessed with Belgian surrealist art. But I've recently become entranced by the neo-expressionist movement of the 80's. The stars? Jean-Michel Basquiat and Keith Haring. Two friends with different styles, but who were genuinely good, creative, passionate people. I could go on and on about what makes them so unique and revolutionary, but that's a whole other post. Right now, I'm going to talk about the tattoos I'm going to get in their honor.
First off, I knew I wanted two tattoos, and I knew I wanted them to show my affinity for art, so I decided to make them by artists who were somehow connected. Then it hit me: Basquiat and Hering. An iconic duo.
On the top of my left wrist, I'm going to get the chicken scratch crown that became an icon for Basquiat.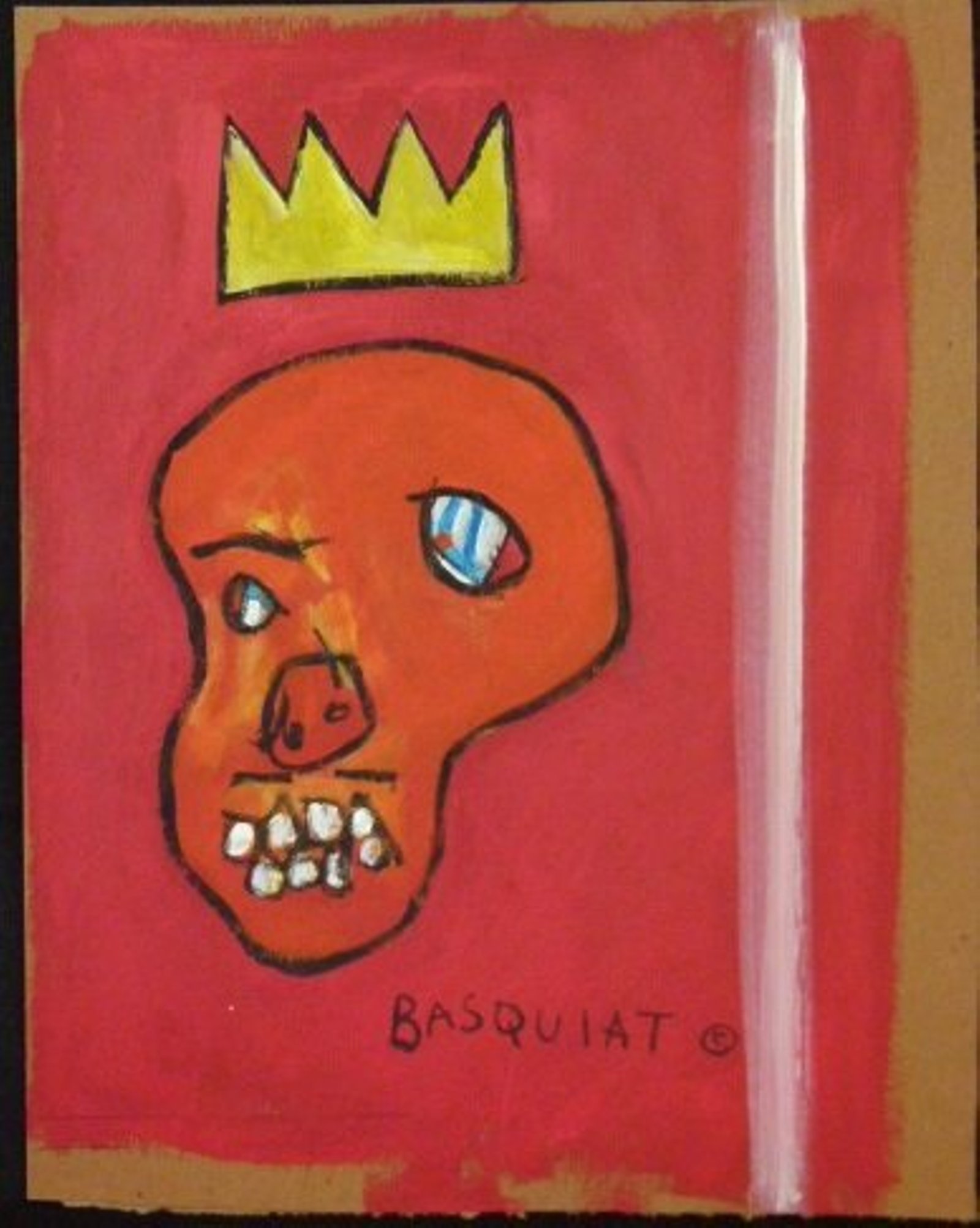 Jean-Michel Basquiat passionately believed that every line, every brush stroke, meant something. This crown he drew was just one line, drawn fast and a bit sloppily. But it reflected his heart's deepest desire.
This was the thought behind it (or something like this.) Kings would adorn these majestic crowns, encrusted with jewels and made of gold, to prove their importance and power. In a humble way, Basquiat wanted something like that. He always wanted to be more than he was. This crown he drew, which is now the icon of his art, represented his yearning to be important and recognized.
And that's why I want it on my body. I want to be important and relevant and seen. I want to feel like I'm making a difference, or even an imprint, in this world. So many of us die and no one remembers anything we ever did. I want to be remembered. I want to further the boundaries of human endeavor and change someone's life.
That tattoo will mean a lot to me.
The Keith Haring one will be one of his classic dancing man drawings. It's not going to be as representative as the Basquiat tat, but it will still be very meaningful.
As much as I love having tattoos mean a lot and hold a lot of symbolism, I still truly believe that sometimes I don't need a real reason. It's okay if I just like how it looks. It doesn't have to be some groundbreaking meaningful piece. It just has to be something I enjoy seeing every day for the rest of my life.
I'm certain that that is how these two new tattoos will be. Every day I'll wake up and look at my body and feel like a canvas, like an actual piece of art myself. I do that now. It's a good feeling.