Hello, it is I, Elena, back with another mildly-pretentious post to tell you where to drink coffee in Nice, France!! Having worked as a barista for four years, I can confidently say that I know my coffee. Everywhere I go, I find the best cafés around to get my caffeine fix.
I'd also say that I know Nice pretty well, having studied here for three months in 2014, visited friends in 2017, and then studied there again in 2018. So, I definitely know a lot of cool cafés here.
Generally, Nice has been pretty slow to welcoming third wave coffee shops, but it's starting to finally catch on! That's some exciting stuff for a Niçoise coffee lover such as I! Let's take a look at the best cafes in Nice 🙂
Café Indien
Even though this list isn't ranked, I'm placing Café Indien at the top because I truly think it has some of the best coffee in Nice, France.
This is one of the few places in the whole city (and France for the matter) that grind and roaster their own beans, which mean the shops smells amazing. Café Indien take great pride in their coffee and it shows through their careful and elaborate coffee works. They're hitting five stars with presentation, ambiance, and staff friendliness as well.
Café Indien in Nice offers a variety of brew methods and a large tea menu as well. The locals love it; the tourists love it. Needless to say, it's beginning to make a big impact on the Niçoise coffee culture.
Price Point: €
What To Order: Single origin Java espresso
Address: 35 Rue Pairolière
If you're looking for an elaborate-dessert-and-organic-coffee combo, you'll find it at Déli Bo. Their display case is filled with perfectly crafted pastries and desserts and the staff is clearly skilled in the delicate art of coffee making. For those simply visiting Nice, Déli Bo is also just a short walk away from the port. On nice days, I like to grab my café to go and stroll on over 🙂
Price Point: €€
What To Order: Café Américain
Address: 5 Rue Bonaparte
Café Marché
Café Marché is nestled deep in Vieux Nice, only a two-minute walk from Lac Patisserie, where you can get incredible macarons. They have a hearty menu, tons of outdoor seating, Sunday brunch, and a phenomenal café au lait. This is one of those coffee shops that you can spend hours at, especially if it's a sunny day and you're out on the patio.
Price Point: €€
What To Order: A classic café au lait and their carrot and parsnip soup
Address: 2 Rue Barillerie
Emilie and the Cool Kids
These shops are popping up all over the Côte d'Azur and I'm loving it. Trendy young French girls are flocking to Emilie's to get their cold coffee by the bucket. Maybe that's a bit of an exaggeration. But their iced coffee is no joke! Also, the baristas there are very sweet and there's plenty of seating here, making it a great place to get some work done!
Price Point: €€
What To Drink: Iced Latte or Iced Coffee ❤ Oh, and a cookie!
Address: 1 Rue de la Préfecture
Plage Beau Rivage
For a place with a view, Plage Beau Rivage on the Promenade des Anglais is where you need to be. The coffee is not too shabby, the food is really quite good, but nothing beats the location. A private area right on the rocky beach, you can sit at a nice table under the umbrella, with the sound of the waves in the background. It's a very peaceful way to pass the time and the tapas there are to die for.
As a fun bonus and change of pace, there are also a few shops nearby where you can rent roller skates by the hour. Give it a go, if you can!
Price Point: €€
What To Order: Café Crème
Address: 107 Quai des États-Unis
Even though it's the Grand Café de Lyon, if you're looking to feel like a true Parisian, this place is where you need to go. They're a bit snobby there, but it's lovely to sit at a marble top table out on the terrace and watch people go about their day. When people ask me about the best coffee in Nice, this is the first place I recommend.
I have a ton of fond memories here, my favorite of which was spending two hours here on my 19th birthday, with my friend Kimika. That was truly one of the best days of all my time in Nice.
Price Point: €€€
What To Drink: Café Allongé and their cup of strawberries (which comes with sugar!)
Address: 33 Avenue Jean Médecin
Another trendy cafe making a name for itself in the Niçoise coffee game, Cafe Frei has a fantastic atmosphere and friendly staff. They specialize in pastries and sweet drinks from all over the world but their breakfast is what stole my heart. Cafe Frei is where you can find among the best breakfast in Nice and perhaps the most extensive coffee menu. Cafe Frei Nice, France, will blow your mind but also will probably give you a cavity.
Additionally, this is one of the places where the decor alone will take you back in time. Very Instagram worthy.
Price Point: €€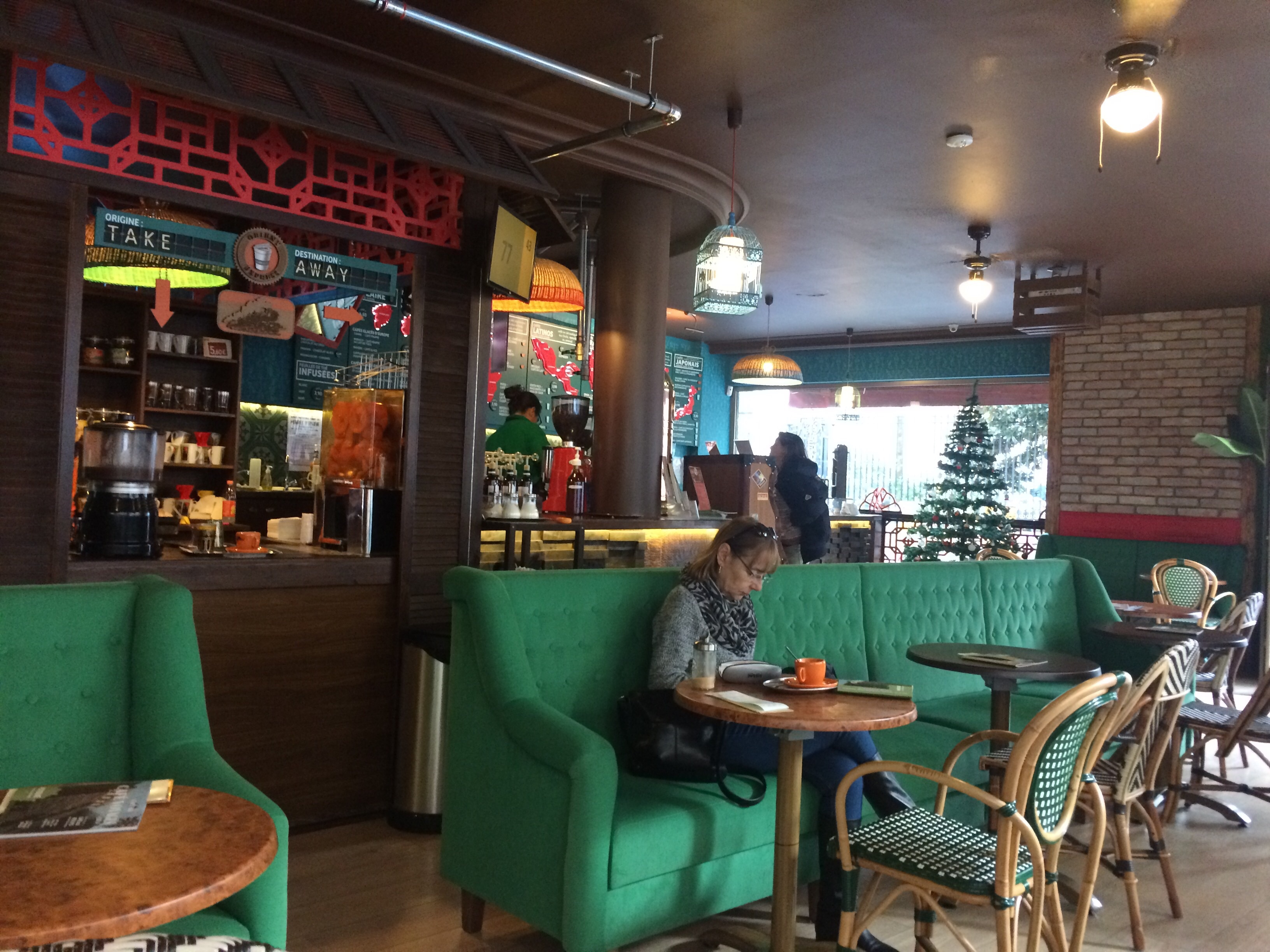 What To Drink: Café Arabe (sucré) and Pain au Raisin
Address: 2 Rue de France
Mom and Pop Shops
Of course, I can't make a list bout the best coffee in Nice, France, without mentioning all the local mom and pop shops, cafes, and bars that make amazing coffee as well! France has a variety of traditional coffee drinks that you need to try at least once! Here's a quick little snippet to explain a few:
Noisette: basically the French version of a macchiato. (,50 – 1€)
Café Crème: served in a short, round cup, a café créme is espresso with creamy foam on top! (2,50€)
Café au Lait: a classic; a staple of French cafe culture. It's coffee with milk on top, similar to the café crème but without the espresso (2 – 3€)
Un Déca: decaf espresso. Warning: you might be judged. (,50 – 1€)
Once you find your way to these small cafés (which likely double as a bakery, or boulangerie, as well) you need to check out these pastries!
Price Point: €
In general, France has good coffee. So if you ever in desperate need of a coffee, but aren't around any of these places, your best bet is an independent cafe or restaurant. You'll always be safe ordering an espresso, too! Just say, "Je voudrais un café, s'il vous plaît."
Going to Paris soon? Check out this guide on where to drink coffee in the French capital!